NATIONAL AFFAIRS OFFICE, WASHINGTON, D.C.
Conceived to address challenging social issues confronting America, the National Affairs Office of Washington, D.C. was created by the Church of Scientology in 2012 and dedicated to the support of the Church's humanitarian efforts.
It was the first and only National Affairs Office until the creation of the National Affairs Office of Ireland, which opened to the public in October 2016.
The Washington Office, like its counterpart in Ireland, works to support the Church's secular outreach by helping coordinate social betterment initiatives that include humanitarian and human rights programmes, literacy projects, drug abuse prevention, educational assistance, criminal justice reform, prison rehabilitation, disaster relief and service to those debilitated by drugs.
Creating liaisons with American government agencies, political leaders and other organisations has been an integral part of the Washington Office's mission to build a better future for all Americans.
The collaborative work done through the National Affairs Office of Washington, D.C. not only brings together people of similar interests, but has established over time long-lasting relationships that encourage an environment of support for community betterment throughout America.
To that end the National Affairs Office of Washington, D.C. works towards a world that is more secure and just, and one in which freedom of conscience and tolerance for the beliefs of others are worthy goals. It seeks also to help provide resources that will result in interfaith cooperation and cultivate dialogue on humanitarian issues of importance to all.
It is our intent that this mission be as effective in Ireland, as it is in America.
As L. Ron Hubbard himself once noted, "The sun never sets on Scientology."
What was true more than 30 years ago is even truer today.
In an era of rapid expansion, the Church of Scientology has established 36 major church facilities since 2010 alone. In all, some 11,000 churches, groups and Scientology missions combine to carry out the spiritual, social and humanitarian work of the Church. Its major institutions around the world now act as regional centres to coordinate that important work.
From LA to New York, from Sydney to Tokyo and from Bogotá to Budapest, the sun that never sets has never shined brighter on Scientology.
GRAND OPENING EVENT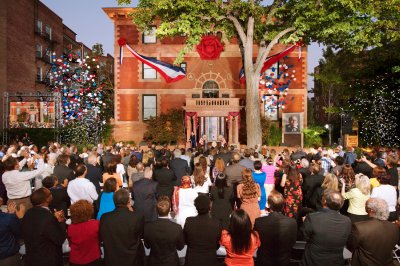 Church of Scientology Opens National Office in D.C. Landmark
LEARN MORE
PHOTOS
MAP
LOCATION
Address:
1701 20th St NW
Washington, DC 20009
United States

Phone: (202) 667-6404