BUDAPEST, HUNGARY
A SAGA OF FREEDOM CULMINATES IN IDEAL CHURCH COMING TO LIFE IN BUDAPEST
JULY 23, 2016
Budapest's Ideal Scientology Church opens July 23, 2016, to mark a milestone for spiritual freedom in Hungary.
Already there are epic tales about Scientology in Hungary—a country that for centuries has cherished its myths and histories. In the last days of the 1980s and the dawning of the 1990s, totalitarian, atheistic Communism receded from Eastern Europe, much of Asia and Russia. Long starved for spirituality, Hungarians—like all people who had suffered under the Soviet commissars—quickly sought truth and religion. In 1988, a single copy of L. Ron Hubbard's Dianetics: The Modern Science of Mental Health pierced the iron curtain and a movement was born.
Now, some 25 years after first planting the Scientology banner in Budapest, the religion opened an Ideal Church of Scientology Organization, in the historic city. The Budapest Ideal Org is the 52nd Ideal Org that has opened since 2003, and with an accelerating pace of inaugurations, another 50 are already in the making.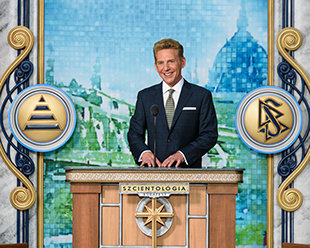 "It is said the whole world knows your city as a capital of freedom," said Scientology's ecclesiastical leader, David Miscavige, in an address to some 3,500 Scientologists and friends at the July 23 opening of the Budapest Ideal Church. "Your fight to be free translates into every known language on Earth. It is also said that whenever people yearn for liberty, they become 'citizens of Hungary.'"
As a country more or less situated in the middle of everywhere, Hungary has had its share of visitors. Nomads from the east a thousand years ago founded a kingdom and crowned King Stephen I. Then came Mongols and Ottomans, the Hapsburg Austrians, Germans and Russians. There have been wars and great upheavals, tremendous cultural surges and marvelous music, and don't forget the cuisine. Even spicing history up in the 15th Century, a gent named Vlad (AKA Dracula) was sharpening his canines in the Transylvanian corner of Hungary.
So, as eddies and floods of civilization washed across Hungary, a great city was built on the hilly west side of the Danube, Buda. A slightly younger civic sibling, Pest, arose on plains on the east side of the great river. Budapest today is the cultural, political, and commercial hub of Hungary, and one of the great metropolises of Central and East Europe. Full of great, historic landmarks—Buda Castle, the Fisherman's Bastion, the Chain Bridge, and so many more—a new emblem of liberty has been added to the city, the culmination of work by thousands of Scientologists.
Scientology's Ideal Org stands amidst Budapest's bustling heart. Located on one of the city's main thoroughfares, Váci Road, in the thriving District XIII, the 64,000-square-foot Church is impossible to miss. Its 85-foot Scientology sign extends across its western elevation and announces its presence to the more than 100,000 commuters each day.
"A longing for spiritual independence" is how Mr. Miscavige described Hungary and the crowd at the opening. "Here stands what you built to proclaim it can be done—your new Ideal Church of Scientology of Budapest!"
The Church's grand opening is the culmination of the religion's rapid rise since its founding in Hungary a quarter century ago. In fact more than 33 missions now dot the Hungarian landscape and beyond into neighboring countries of Romania, Slovakia and the Czech Republic. And representatives from each were among the 3,500 Scientologists and guests present at the grand opening ceremony.
Chief among the attendees were leading lights of Hungarian society welcoming the Church to its new home: Dr. István Komáromi, Brigadier General, Police Chief of Pest County Ret.; Dr. Ildikó Hekáné Szondi, Vice-Chair for Culture, Education, Tourism and Youth, City of Szeged; Ms. Ágnes Debreceni, Board Member, Gárdonyi Education Foundation of Hungary; and nationally renowned novelist Mr. István Nemere.
"It was 15 years ago when you first reached out to me. You wanted to run a marathon across Hungary and wake up our country to drugs," Dr. Komáromi told the crowd. "And so together we launched the first Drug-Free Hungary Marathon in March 2002. And since that time you have swept this nation with our message. Reaching more than 400 towns and cities. Distributing over two million anti-drug booklets. And inspiring the youth of an entire nation to live drug-free lives."
Ms. Debreceni described how Applied Scholastics, utilizing L. Ron Hubbard's Study Technology, was transforming the education landscape. "Shortly after beginning my career I encountered problems in educating my students. Many kids were labeled 'problematic' or diagnosed with 'learning difficulties.' It's heartbreaking for an educator to see these problems and not have the tools to help. Yet, in this accumulating darkness there are still people working, people bringing hope; unwilling to give up. And I met those people at Applied Scholastics Hungary."
Hungary's national character is defined in part by culture and a love of the humanities. Dr. Szondi recalled that she had first met Scientologists at her "civil coffee houses," where citizens come to learn how they can be more civically engaged. "I always want to show everything good that is going on in town," she said. "And that most definitely includes you and specifically The Way to Happiness. After all, who doesn't want to be happy? But even more importantly, I believed others needed to know about it. I believe the Hungarian way should be Flourish and Prosper."
Also speaking about cultural heritage, the author Mr. Nemere, referred to Scientology Founder L. Ron Hubbard, also a preeminent writer of many genres. "Mr. Hubbard said he was just a man and yet he built a path to freedom and one that is not too steep to walk," Mr. Nemere said. "Because of him, no matter how clever or lucky, how rich or poor—anyone can get into a higher place, beyond what they ever imagined. All of which is to say, L. Ron Hubbard is the greatest humanitarian of our time."
---
The new Budapest Ideal Org provides visitors with an introduction to Dianetics and Scientology, beginning with the Public Information Center. Its displays, containing more than 500 films, present the beliefs and practices of the Scientology religion and the life and legacy of Founder L. Ron Hubbard.
The Information Center also offers a detailed overview of the many Scientology-supported humanitarian programs. These include a worldwide human rights education initiative; a far-reaching drug education, prevention and rehabilitation program; a global network of literacy and learning centers; and the Scientology Volunteer Ministers program, now representing the world's largest independent relief force.
Budapest's Chapel provides for Scientology congregational gatherings, including Sunday Services, weddings and naming ceremonies, as well as a host of communitywide events open to members of all denominations. The Ideal Org further includes multiple seminar rooms and classrooms, in addition to an entire floor dedicated to Scientology auditing (spiritual counseling).
---
The Budapest opening continues an unrelenting growth period for the Church in the past 12 months. In fact, it caps a decade of Church expansion that out-powers the previous 50 years combined. Recent Ideal Church openings have occurred in Atlanta, Georgia; Milan, Italy; Tokyo, Japan; Bogotá, Colombia; and Basel, Switzerland. Also, the Church recently opened Scientology Media Productions, a five-acre, technologically cutting-edge studio in Hollywood, California, in which the religion's message will be proclaimed via television and radio broadcasting, Internet and social media and every other media platform.
And more is on the way, with openings of more Ideal Orgs in the coming year planned for cultural epicenters in Australia, New Zealand, Europe and North America.