LOS ANGELES, CALIFORNIA
BRINGING PEACE AND BUILDING CIVILISATION: CHURCH OF SCIENTOLOGY FAREWELLS A 2016 OF BOUNDLESS GROWTH AND ACHIEVEMENT
DECEMBER 31, 2016
New Year's celebration marks surge of new Churches and showcases twelve months of accomplishment across every facet of the religion.
As thousands of Scientologists and their guests assembled in Los Angeles' Shrine Auditorium for the live Scientology New Year's celebration, the filled-to-capacity hall was alive with excitement and anticipation. Behind—another record-breaking year surpassing all expectations. Ahead—relentless momentum destined to exceed all previous years.
"However else the world out there regards the last twelve months," declared Mr. David Miscavige, the ecclesiastical leader of the Scientology religion, "whether in terms of hard times, desperate times, time-out, time's up, closing time, a hell of a time, or, better luck next time—well, we do it differently. In fact, we wouldn't give the time of day to find out what prevailing wisdom thinks about this year—because, we know time is always on our side. And if you're still not sure why 2016 passed like a dream, all you have to do is calculate how we packed 'infinity' into twelve calendar months and, so, created a year like this."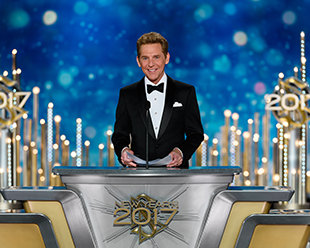 And with that, Mr. Miscavige launched this year's New Year's celebration—an enthralling overview of 2016 told in terms of illustrative stories spanning 24,000 miles of the Scientology world.
Throughout, standing ovations rolled over the Shrine venue, each underscoring another "win" for both Scientology and humanity at large.
The presentation, complete with documentary footage of Scientology's many humanitarian programmes, provided a spellbinding overview of the religion's astonishing expansion. Also featured were multitudes of those newly entering Churches and availing themselves of the spiritual technology of Scientology Founder L. Ron Hubbard (LRH). In illustration of exactly that, more than 10 times the number of Scientologists ascended the religion's "Bridge to Total Freedom" in 2016 as compared to previous years.
That growth is energised by the rapid succession of new "Ideal" Churches—and, as Mr. Miscavige emphasised, 2016 further marked grand openings of spectacular new religious facilities, including:
The April 2 inauguration of the first Ideal Scientology Church for the South in Atlanta, Georgia.
The May 28 dedication in Hollywood, California of Scientology Media Productions—the five-acre, technologically cutting-edge studio, from which the religion's message will be proclaimed via television and radio broadcasting, Internet, social media and every other media platform.
The June 25 grand opening of a pair of city landmarks in Clearwater, Florida, forming the administrative hub of Scientology's international spiritual headquarters.
The July 23 consecration of an Ideal Church in Budapest, planting a milestone for spiritual freedom in Hungary.
Just one week later, the July 31 launch of an Ideal Church and Community Centre in Harlem, the cultural heart of Black America and enduring home of Spanish Harlem.
The September 4 grand opening of an all-new spiritual headquarters and Ideal Advanced Organisation for the Asia Pacific region, set amidst 900 acres of national forest in Sydney, Australia.
And on October 15, the ribbon cutting of a Scientology National Affairs Office in Dublin's iconic Merrion Square—a striking Georgian building for the permanent delivery of Scientology-supported social betterment programmes in the Emerald Isle.
As is traditional for the Scientology New Year's celebration, Mr. Miscavige next presented insights into what transpires when L. Ron Hubbard technologies are placed into social application:
Association for Better Living and Education (ABLE)—where secular and charitable programmes employ life-changing strategies to overcome and eradicate drug addiction, illiteracy and crime. In Latin America, where Narconon drug treatment programmes not only effected continent-wide training of teams of specialists, but were awarded official sponsorship and full support for any Narconon student in the Mexican state of Sonora. In Oregon, where L. Ron Hubbard's learning breakthroughs sparked a resurgence in 21st century education and thus scholastic aptitude scores nearly 400 points above national averages. And in South Los Angeles, where L. Ron Hubbard's common sense guide, The Way to Happiness, was proliferated by Church members and friends at inner-city crisis points, thereby forging a gang land truce and reducing violent crime by forty percent.
World Institute of Scientology Enterprises (WISE)—Included in this year's array of stories underscoring the efficacy of L. Ron Hubbard's technology for prosperity is a Hungarian lighting design firm that revolutionised chandelier design. In the same vein is Scandinavia's leading roofing company, named Swedish Craftsmen of the Year for two years running and which expanded 30 times since inception. And then there's the Italian chef academy from which 2,700 elite chefs graduated for a culinary presence in 1,800 cafés, bistros and restaurants—a number of which boast Michelin stars.
International Hubbard Ecclesiastical League of Pastors (I HELP) and Scientology Missions International (SMI)—The advanced guard of Scientology on behalf of humanity. Featured teams of SMI and I HELP, 2016, included Scientologists from St. Petersburg, Russia, bringing spiritual help to people across 11 time zones. In Slovakia, the Scientology Mission of Levice aided more than 10,000 with their national Volunteer Ministers programme—a programme providing more than 4,000 drug education lectures, reducing illicit consumption by 50 percent. Finally, there's the Ideal Mission for Orange County's South Coast in California, which opened its doors in October and has expanded five times over.
Also honoured were a record number of Power Field Staff Members, hailing from 37 nations. Each took the stage in recognition for helping more than 100 ascend the Bridge to Total Freedom.
Finally, Mr. Miscavige presented yet another milestone achievement for the religion: the unveiling of the latest Ideal Org—the Church of Scientology of San Diego. It marked the 55th such "Ideal" facility and the fulfilment of L. Ron Hubbard's vision of a Scientology Church as perfectly reflecting his technology.
In a most appropriate summation of this Scientology New Year's 2016, Mr. Miscavige reminded all present that, in these tumultuous times, what concerns mankind must, perforce, also concern Scientologists.
"As you may or may not have noticed, the world out there is buffeted by contrary winds. But however else one views the current political climate, we are not political. We are Scientologists—and we stand for what LRH set forth in the Code of a Scientologist and the Creed of our Church.
"Thus, we of the Church believe in human rights. We believe in racial equality. We believe in liberty, eternity and the dignity of Man.
"And these things are not subject to political debate. In fact, these things are inviolate.
"So regardless of which way winds of history blow, our platform is unshakable:
"That we will stop at nothing to achieve our aims—a world without insanity, without criminals and without war.
"And that we stand by all people who work to make that better world.
"Because only through mutual understanding comes kindness…
"From which comes peace and genuine freedom."
So closed this Scientology New Year's, 2016… And in that same spirit, so the Church begins 2017.