SCIENTOLOGY MEDIA PRODUCTIONS
OUR GLOBAL MEDIA CENTER
Welcome to Scientology Media Productions.
Where the Golden Age of Hollywood's past merges with the most advanced state-of-the-art technology of today to help build a better world for tomorrow.
Designed for global communication across every conceivable media channel—there is simply no other facility like it on Earth.
This historic five-acre motion picture and television studio has been transformed into a fully integrated digital media production center:
Sound stages, visual effects, editing, animation, recording, mixing, broadcasting, foreign language translation and dubbing, every aspect of production and publishing on one self-contained lot.
With state-of-the-art facilities for every form of media— film, television, Internet, social media networks, podcasts, streaming video, radio, cable, satellite and adaptable to any future development in media production.
Welcome to our Golden Age of Communication.
GRAND OPENING EVENT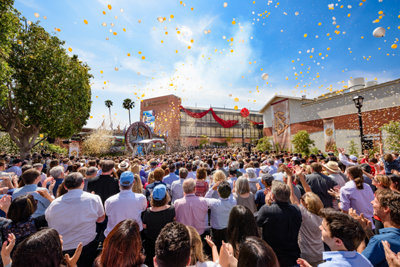 Welcome to Scientology Media Productions: Religion's Massive Communications HQ Opens to the World
LEARN MORE
VIDEO
PHOTOS
MAP
LOCATION
Address:
4401 West Sunset Blvd
Los Angeles, CA 90027
United States