MIAMI, FLORIDA
A MAGICAL WELCOME GREETS MIAMI'S NEW CHURCH OF SCIENTOLOGY
APRIL 29, 2017
The Magic City's new Scientology Church opens its doors in honor of freedom and volunteerism in the cultural core of Miami.
Miami is as much a state of mind as it is a location. The city is, for example, about 230 miles from Havana, Cuba. But today's Miami is as intricately fused with the Cuban capital as the two sides of a coin. Miami is Latin, it's Haitian, it's Southern, it's Yankee, it's hot and sweaty and it's infinitely cool. Florida's top balladeer, Jimmy Buffett, sang about Miami: "We got a style, we got a look, we got that old panache."
There's a new sparkle to the panache. On US Highway 1, nestled amid the storied bohemian ambiance of Coconut Grove and the international gold-collared town of Coral Gables, 2,000 Scientologists and guests gathered, Saturday, April 29, 2017, atop a prominent structure to celebrate the opening of a Church of Scientology.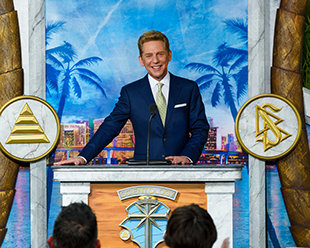 In commemorating the new Church of Scientology for Miami, Mr. David Miscavige, Chairman of the Board Religious Technology Center and ecclesiastical leader of the Scientology religion closed his inaugural speech by stating:
"The sea has many voices, many faces and many moods.
"But the more diverse the waters, the greater the romance and adventure.
"So sail on Mighty Miami.
"Godspeed and good luck.
"Yours is now a Ship of State and she sails for all humanity beneath the colors of Scientology!"
The new facility is designed to not only bring individuals to more advanced states of mental and spiritual freedom, but as a humanitarian center to launch programs that battle drug abuse and illiteracy, that foster human rights, and that dispatch volunteer teams to crises and calamities across the globe.
And while the Miami Church has similarities to Scientology Churches that stand in both hemispheres of Earth, the tropical Florida site reflects the special local character of the Southern region—just as the other Churches speak to their cultures, whether in Sydney, Auckland, Kaohsiung, London, Rome, Bogotá, Mexico City, Tampa and the dozens of other cities where the religion flourishes.
So, in late April, with Miami's southeast breezes cooling participants, the grand opening celebration rocked to life to a salsa beat that was decidedly "Miami Nice." The festivities melded those Latin and dance rhythms with humanitarian heroes, and all of it synchronized toward giving back to this city of freedom.
Miami is many light years distant from 1900, when it was just a trading post with fewer than 2,000 residents staking a claim on the swamps of the Everglades. By 1960, some 935,000 people lived in Miami and by 2015 it had soared to 2.7 million—Miami was the international financial and cultural capital of Latin America.
What happened to cause that? In a word: Freedom.
In early January of 1959, a flood of freedom-seeking refugees began riding the Gulf Stream to Miami on boats, rafts or anything that would float. It wasn't just that the South Florida population surged, the entire character and culture of the City was transformed.
One of the early outposts in what has become the accelerating worldwide expansion of Scientology was in Miami, which first opened in the Magic City on March 11, 1957. And the Church has now grown into its stunning new modern building on "Main Street" Miami, or "South Dixie Highway" to the locals, where some 70,000 cars pass by every day. Seven stories high and spanning some 50,000 square feet, it is as Miami's alcalde—or mayor if you don't quite have the tropical lingo down yet—Mr. Tomás Regalado put it, "an anchor for the community, alive with volunteerism."
The Church has activated a number of humanitarian initiatives in efforts to counteract chronic and acute social issues and their new home provides a springboard for every local program. Such activities include partnering with churches, youth community groups, court judges and police officers to implement drug education to resident youth. All told, the Drug-Free World program has impacted over 35,000 in the Miami area alone.
The region is also a hotbed for human rights violations, and thus the Church has carried out awareness campaigns on human trafficking and mental health abuse reaching five million with their messages through public service announcements on Miami-based Spanish TV and in-studio interviews on prime time radio.
Emphasizing the Church's human rights and humanitarian programs, the celebration featured dignitaries that included: Mayor Tomás Regalado; Mr. Lincoln Diaz-Balart, US Congressman for the 21st District (Ret.); Ms. Tamara Batalha, Miami-Dade County Education Program Director; and Mr. Eduardo Sabillon, Miami City Drug Education Counselor.
In his welcoming address, Mayor Regalado honored the Church opening. "To me, the Church of Scientology is very simple," he told the crowd. "You learn, you work, you think positive and you help people. For that, and many another reasons, you are a good fit for our city."
Mayor Regalado further explained how, "Miami is a gateway to the American Dream. And you have now opened those gates by transforming a cold, sterile building into a vibrant center. ...And your hours of volunteerism will change lives, no doubt about that. So now, all I ask is that you give us even more of your 'hours.' Ten thousand, twenty thousand—I'll take what I can get. That is what we need from the Church of Scientology."
Former Congressman Diaz-Balart spoke to the mutual passion for igniting human rights and freedom that imbued the day's event: "I was born in Cuba and came to the United States with my family, fleeing communism when I was four years old," he began. "When I first met members of your Church at a Human Rights Conference in Washington, DC, I knew I had met very special human beings. Later, when I went to speak with your Human Rights Division, you didn't say, 'We want you to help us.' You asked, 'How can we help?'"
"Your work is not just theoretical," Mr. Diaz-Balart continued. "It's real—very real. And I have heard back from those who suffer the brutality of oppression, that the materials you distribute are 'like a breath of fresh air.' Inherent in every human being is the need to be free. We all need freedom just as much as we need air to breathe. And your Church and your programs greatly contribute to breathing freedom into people's lives."
Miami-Dade County Education Program Director, Ms. Tamara Batalha, described herself as a "warrior for kids. Yet, at age 10, my own daughter could not read. But, when God shuts a window, He opens a door. And that door was to the Church of Scientology!"
Ms. Batalha's daughter enrolled in the Applied Scholastics program based on L. Ron Hubbard's groundbreaking study tools. "And, in just three months, she went from testing at kindergarten level, to reading and writing at third grade." she said. "What you do through Study Technology is a miracle. I began to wonder, now that my child has been saved, how many other children out there can be rescued from illiteracy?" Eight months later, she opened an Applied Scholastics school in South Miami.
Miami City Drug Education Counselor, Mr. Eduardo Sabillon, left his native Honduras at age 12, and came to Miami—at a time when the city was synonymous with the worldwide drug trade. Mr. Sabillon's passion in life was fighting drugs.
"My main challenge was a lack of resources," he told the crowd at the grand opening. "When I found your Drug-Free World curriculum, it was as though they were heaven sent. I started out using the program in Miami and saw how much it attracted youth. Its straight-talking style does not sugarcoat the realities of drug use."
"And so, word quickly got around. Soon, it seemed like everyone wanted the program, with radio stations calling, TV stations calling, as well as churches and youth groups. They were all saying: 'We need something that connects with our youth.' That is how our Drug-Free movement came alive."
And underscoring the day's ever-present spirit of partnership, Mr. Sabillon spoke of the new Scientology Church as an even greater platform for social transformation. "We have much more work to do," he said. "And so, I want to thank you for this new Church of Scientology and this fantastic new beginning for Miami. Because, after all, it's not every day an organization like this opens. And that's why you have my sincere pledge that we all make the most of it."
---
The new Miami Church offers an Information Center open to the public seven days a week, with some 500 films detailing Founder L. Ron Hubbard's life and legacy and Scientology beliefs and practices. It further presents the size and scope of the Church's humanitarian initiatives and community outreach programs, including a worldwide network of literacy and learning centers; international drug education, prevention and rehabilitation; ever-expanding human rights efforts and the world's largest independent relief force, the Scientology Volunteer Minister program.
The facility provides for the delivery of an array of Scientology services including evening and weekend Dianetics and Scientology seminars, which offer an overview of fundamental principles and their application to life. A host of Scientology Life Improvement Courses complement the introductory seminars to help better any aspect of living. The Church additionally features an entire wing for Scientology auditing (spiritual counseling).
The Chapel of Miami's new Church of Scientology is designed to host congregational gatherings that include Sunday Services, Weddings and Naming Ceremonies. It is also the perfect setting for open house events, community gatherings, civic brunches and banquets for members of any faith.
---
The Miami ribbon cutting launches an epic season of expansion for Scientology and simultaneously caps 12 months of unrelenting growth. Recent Church openings have taken place in the San Fernando Valley, California; Auckland, New Zealand; San Diego, California; Sydney, Australia; Harlem, New York; Budapest, Hungary; and Atlanta, Georgia.
Future openings are slated for cultural epicenters in Latin America, North America, Europe, the United Kingdom and Africa.