CLEARWATER, FLORIDA
INSPIRATIONAL BIRTHDAY CELEBRATION FÊTES PAST, PRESENT AND FUTURE LEGACY OF L. RON HUBBARD
MARCH 13, 2017
Clearwater, Florida becomes nexus point for Church celebration to honor the transcendent life of Scientology Founder.
To celebrate his March 13, 1911 birthday, each year Scientologists from sixty countries gather at the religion's spiritual nexus in Clearwater, Florida in a weekend celebration of their founder's life. This year, they acknowledged Mr. Hubbard's seemingly endless accomplishments, and cast their eyes toward a limitless future, inspired by the life and works of L. Ron Hubbard.
LRH, as his multitudinous followers know him, was a polymath—a person of wide-ranging knowledge and education. Beginning as the youngest Eagle Scout in American history (awarded just days after his thirteenth birthday), LRH explored the religious landscape of Asia by the time he was fifteen. Mr. Hubbard went on to become the Guinness Book's most translated author, and also holds their record for most audio books by one author.
His work toward the salvation of mankind continues to inspire millions worldwide. This annual weekend celebration displays by turns, his research into man as a spiritual being, his technical legacy that allows others to identify, explore and realize their innate spiritual abilities—all this L. Ron Hubbard left to a troubled world.
The weekend also serves as an update of the rapidly expanding world of Scientology and all as a tribute to LRH.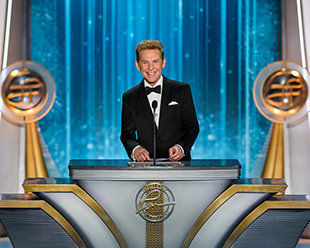 "If ever this world needed L. Ron Hubbard—it's now, tonight and planetwide," said David Miscavige, Chairman of the Board, Religious Technology Center, as he commenced the inspirational night's agenda. "But fortunately, that's exactly his magnitude as of this evening. And I'm not merely referring to his technical legacy, his literary imprint, or, his tools for decency, morality and cultural resurgence. No, I mean the man himself. I mean his character, presence and beingness. I mean all he's now become and will forever be."
The evening presented not just a sense of L. Ron Hubbard's influence on the lives of individuals, but also a surge of real-life stories on how he touched others… if only for just a little while, but ultimately changed the outcome of their destiny.
The LRH Biographer, Dan Sherman, opened the door to that world of L. Ron Hubbard and invited the audience to walk in. The pillars of his presentation were on-camera interviews with a sampling of those who were actually there with LRH during a telling moment in the course of both their lives and his: "Tonight's the night to ask that question: 'What if there were witnesses?'" began Mr. Sherman. "What if there were those who may not have understood all that happened then, but all the same, they're now back to tell us what they saw 'way back when.'"
Over the course of an hour, Mr. Sherman proceeded to share an array of dazzling accounts from said witnesses—witnesses of LRH's history that included sub-chasers in the Second World War, and military hospitals by San Francisco Bay, to New York City's Hell's Kitchen and even the genesis of America's post-war counter-culture movement. Each one in its own right emphasized that wherever LRH walked and however random the lives he touched, he left an indelible mark.
As this was his birthday celebration after all, the night also featured the presentation of the annual Birthday Game Winners, carrying on the tradition begun forty years ago of honoring Mr. Hubbard each year with expansion in every Scientology Church around the world. The spirit of the game is punctuated with straight up and vertical expansion—exactly what victory depends upon.
It was that momentum which singled out the 2017 winners of the game. Participants in each class of Scientology Church flew flags of nations from North America, Europe and Australia: the Ideal Scientology Mission of Belleair, Florida; the Ideal Church of Scientology Milan; and following their grand opening just six months ago, both the Ideal Advanced Organization and Ideal Continental Liaison Office for Australasia. Representatives from each took the stage to receive applause from the lively crowd.
The night's spotlight continuously shone on the size and scope of Scientology today, spirited by L. Ron Hubbard's legacy. His legacy was exquisitely personified in the unveiling of the newest Ideal Organization (Org) in Auckland, New Zealand. The Kiwi congregation formed the second Church of Scientology in the world in 1955, and Mr. Miscavige detailed out their new home atop of Auckland, noting that "Prominent doesn't even begin to describe" the 1844 landmark site that is now the newest Ideal Church. Attendees next witnessed the moving grand opening ceremony with local luminaries heralding the moment as a sea change for their island nation.
Noting the more than 50 Ideal Churches opened in the last decade, Mr. Miscavige further announced forthcoming new Ideal Churches for the San Fernando Valley in Los Angeles; in Miami, Florida and Copenhagen, Denmark.
The evening was a celebration of a life well lived—a life lived for the benefit of all mankind, and a life lived to help individuals without hesitation. Birthdays are traditionally a time to acknowledge what a person has done and how they influence the lives of others. But as LRH is transcendent, his birthday celebration ultimately captured what his life and work will continue to mean for the future.
---
The festivities extended to the Scientology campus in downtown Clearwater, where all six Flag accommodation facilities including the historic Fort Harrison, Oak Cove and Sandcastle religious retreats, overflowed with parishioners celebrating the occasion.
The annual International Association of Scientologists' Patrons Ball completed the weekend activities. The evening's elegant event gave thanks to Scientologists who, through their extraordinary contributions, have made possible the countless humanitarian initiatives carried out by the Church and its members, to millions around the world.
---
In all, it was a celebration in the name of helping people honor their own potential—of making a world that mankind desires, that he deserves.