COPENHAGEN, DENMARK
DEDICATING EUROPE'S IDEAL GATEWAY TO OT
FEBRUARY 15, 2014
The flourish of a legion of flags…
The colors of more than 30 European nations waving in the Danish winter breeze…
And thousands of Scientologists speaking 27 languages gathered in celebration.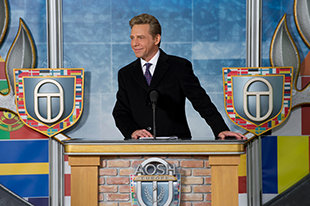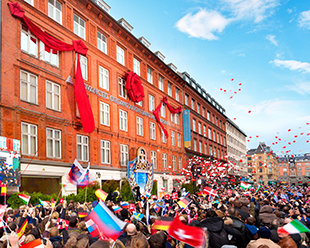 Such was the scene along Copenhagen's Jernbanegade Street for the dedication of the new Ideal European Gateway to OT: the Ideal Advanced Organization and Saint Hill Europe (AOSH EU).
Originally established by L. Ron Hubbard in 1969, AOSH EU is a multilingual Sea Org organization that services Scientologists from the nations of Europe, the Commonwealth of Independent States and the Middle East.
The grand opening follows in the wake of the monumental release of the Golden Age of Tech Phase II, which has resulted in exponential numbers of Scientologists ascending the Bridge to the State of Clear with unprecedented speed. Consequently, AOSH EU's home has been completely transformed into the Ideal Advanced Organization to accommodate the multitudes of Europeans now poised to cross the threshold into the realm of OT.
In recognition of this milestone event, Chairman of the Board Religious Technology Center, Mr. David Miscavige, led the dedication ceremony. Mr. Miscavige addressed the thousands of European Scientologists and staff present:
"Here stands an ideal spiritual center for Europe—one that embodies the route to OT across every culture and every language on this continent. With the span of The Bridge now forged from pure, unadulterated Source, the passage ever upwards is guaranteed. So it is we open the doors for all to continue at break-neck speed to the vast vistas of freedom and immortality."
The grand opening of the Ideal AOSH EU represents the first in a new breed of continental Advanced Organizations. The facility boasts a complete Solo Technical Division dedicated exclusively to servicing all Solo Auditors; an expanded Hubbard Guidance Center with dozens of auditing rooms to move Scientologists to Clear and through Audited New Era Dianetics for OTs; and expanded training facilities with multiple course rooms spanning an entire floor.
Originally constructed in 1887, the Church's historic home neighbors Tivoli Gardens and Town Hall Square. In the process of completely transforming all seven stories to fully Ideal standards, the Church meticulously preserved the building's distinctive features—most notably the sculptured terra cotta brick façade and the original Pomeranian pine interior millwork throughout.
The grand opening of AOSH EU further marks the launch of an entire Ideal European Scientology Base, scheduled for completion in the coming months with grand openings of:
The 98,000-square-foot Continental Liaison Office for ecclesiastic management of the European continent;
The landmark building for the Church's new Ideal Organization of Denmark on Copenhagen's renowned Stroget walking street;
And the fully remodeled, seven-story Nordland Hotel. Ideally situated within walking distance of AOSH EU, the full-service hotel will provide more than 80 guest rooms to accommodate Scientologists arriving for services from nations across Europe.